Snow And Ice Removal In Clare Michigan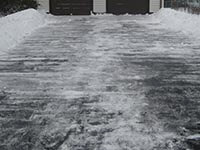 Some Michigan residential and commercial property owners look at winter maintenance as a nuisance and safety issue. Others do not have the time or ability to take care of it on their own. We provide prompt service when it comes to clearing snow and ice from driveways, parking lots, sidewalks, and walkways in the Clare area. We are one of the best snow removal companies in Clare when it comes to competitive pricing and making sure the job is done right. We care for your property as if it was our own and in a way that your employees, guests, and customers expect and deserve.
Snow Removal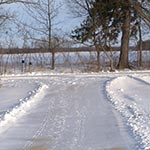 Clare Michigan snow storms can dump large amounts of snowfall in a short period of time. We watch the weather and as soon as the white stuff starts to fall we go to work. We make sure your property is accessible so you can go about your daily activities without issue. We remove snow from prime parking spaces and walkways and any other areas you designate in a quick and efficient manner.
Snow Plowing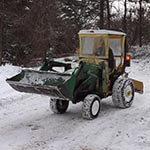 One of the fastest was to remove snow from large surface areas is plowing. Snow plowing driveways and parking lots is one of the main aspects of our snow removal service. We have a tractor that can get to snow in tight places where a truck could struggle, but would take a while to do by hand. We are also able to use a front end loader attachment which can stack snow and give you more space as larger quantities of snow start to accumulate.
Snow Blowing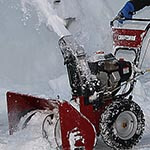 A snow blower can quickly clear sidewalks and walkways. They even work good on smaller driveways and can reduce large snowbanks because they push snow back farther than a shovel or plow. Another advantage of clearing snow with a snowblower is that it has a lighter footprint than a snowplow. Snow blowers will not damage your driveway like a plow can, and they can even be used on surfaces constructed with bricks and pavers. We provide snow blowing services throughout the Clare area.
Snow Shoveling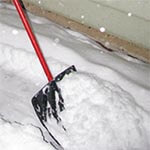 Removing snow from small or delicate areas is done best the old fashioned way, with a snow shovel. A snow shovel can safely remove snow from decks and around bushes and shrubs. If you are in an area where the noise from a plow or a snowblower is a concern shoveling snow might be the solution you are looking for. We are not afraid to get our hands dirty and will shovel snow around your house or property.
Rooftop Snow Removal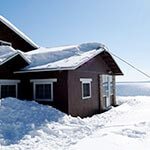 Do you have a buildup of snow on your roof? Are you having problems with ice damming? We can snowrake your roof to reduce ice damming and decrease the weight load before you have a collapse. Our snow rake has wheels that keep it positioned slightly above your shingles preventing damage to them. If you need snow removed from your rooftop we can help.
Ice Removal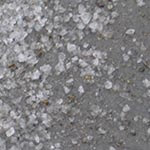 Ice buildup is a huge safety issue. Keeping your driveway and walkways free of ice is important so nobody falls and your vehicles can make it up any inclines. When and ice storm hits we spread salt to de-ice any affected areas. We can also chip ice where it makes sense to do so. Our ice removing service will make your properties surfaces safe again if ice has built up on them.